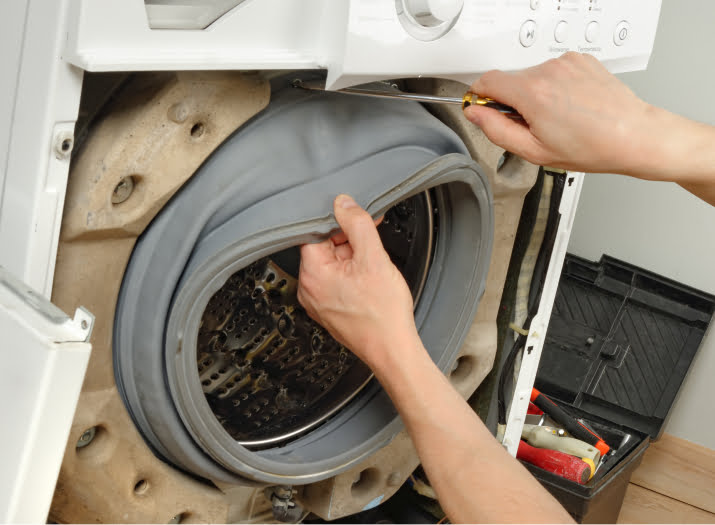 One day your washing machine is properly cleaning your clothes, and you're not concerned about its operation even for a moment. Then out of nowhere, the machine comes to a sudden stop. It's frankly very disappointing, especially if you have a big family. 
Perhaps the drum is filled with water but won't drain. Or the machine refused to spin; maybe it even spun, but your clothes are not clean, or they are filled with fur and other fragments. Worry not if you're in the greater Los Angeles area we got you covered.
Imagine how convenient it is to call an appliance repair service, and before the end of the day, your washing machine is totally fixed.
Impressive right? You don't have to wait for days or even weeks to get your washer fixed when there's someone who can do it in a couple of hours.
Some Facts about Washer Appliance Repair
Repairing washing machines can take between 30 minutes to a couple of hours, depending on the issue. Some of the issues that our agents come across most of the time include:
When your washer doesn't start, you should be concerned. There are some explanations for this; it may seem obvious, but your washer might not be well attached to the socket. It's normal for the plug to loosen when items fall on it or when you move the washer around.
If the washer doesn't start after properly connecting the plug, test the power outlet with a voltage meter or plug in another smaller appliance such as a hair blow dryer. If the outlet doesn't work with the smaller appliance, call an electrician it might be a faulty fuse.
If the outlet is working, then you need an appliance repairman to come in and check your washer for issues such as a faulty connector or something else altogether. 
The washer Didn't Clean Clothes Well
Of course, the purpose of having a washer in your home is getting your clothes cleaned. If this is not the case, then your washer has a problem. Some DIY tips for sorting this issue include try emptying the lint filter inside the washing machine.
But if your clothes still aren't clean, then it might be the right time for you to call an appliance repair service to come in and diagnose what the issue could be with your washing machine. 
The Washer Is Making Funny and Loud Noises
One of the most annoying issues a washer can have is when it starts making loud, thumping, or grinding noises as the clothes spin. This is an issue that should have you calling an appliance repair service immediately. 
Failure to report such a problem for diagnosis can cause the spinning cycles to damage the washer and create more problems for you. So why does this happen?
The drum bearings inside the washer might need to be lubricated
The drum bearings might be worn out and need to be replaced
TThe washer motor drive pulley or belt might also be worn out and needs to be replaced
This is a widespread problem with washers today. After cleaning your clothes, the washer drum is supposed to drain all the water. Then your clothes have to be spun at a very high speed so that they can be later dried in the dryer. 
If the washer doesn't spin properly, then there is an issue. You can try fixing this by redistributing clothes inside the washer. If the problem persists, some other internal component might be the problem, and you have to call a repairman to fix your washer.
This is another problem that is very common with washers today. Agitation is the back and forth movement that helps clean your clothes. If the washer is filled with water and the central agitator doesn't move, then you have a problem.
If the washer is making the normal agitation sounds and the agitator is not moving, the cogs inside might be broken and need replacement. Replacing cogs is no easy task, and you need to get a repairman to buy the right parts and install them in your washer. 
Most washing machines have a service life of at least ten years. But you should take care of the unit and have it serviced regularly by a reputable appliance company. If you ignore minor issues, then they can come back to haunt you later.
Also, you can get your washer fixed for free if your warranty hasn't expired. If you're not under warranty, fixing minor issues won't cost as much. It's the big issues that will have you thinking that rather than paying for repairs, you should buy another washer, and you could be right! 
We Make Washer Repair Easy
1. You just need to fill a service form online, and one of our agents will reach out to you.
2. We don't have to come to your place to fix the washer for minor issues; we can give you DIY tips that will have your machine up and running in a matter of minutes. 
3. You don't need to buy replacement parts; we get them for you at good rates.
When you contact us, we will inquire about the problem and determine what needs to be done it could be a simple fix or a faulty part that needs to be replaced.
Our agents still need to do a home visit, diagnose the problem hands-on, and tell you what needs to be done next. Repairing the washer is the best option if the problem isn't as big.
But if the washer is really damaged and you have to spend a lot of money fixing it or replacing some parts, you're better off buying a new unit. Our agents will advise you accordingly. If the unit needs to be replaced, they will suggest some of the best brands you can buy. 
Your Local Washing Machine Repair
1. Which brand of washers do you repair? We fix washers from major brands such as Fisher-Paykel, Electrolux, Miele, Amana, LG, Samsung, Hotpoint, Speed Queen, General Electric, Whirlpool, Bosch, Kenmore, etc.
2. Do you provide warranties? Yes, we do. All repairs have a one-month service warranty and a one-year warranty for replacement parts.
3. Where are your services based? For the moment, we offer appliance repair services in Los Angeles. Our services are available in the city and its environs.
4. Are your services available over the weekend? Yes, we offer our services during the weekend including Sunday.
5. Can I request services on your website? Yes, you can. You can fill out a service form, and one of our agents will contact you shortly.
6. Do you buy or sell appliances? No. We only offer in-house repairs and servicing. 
As you can see, repairing appliances is what we are good at. So if your washer happens to break down, you can give us a call if you're in Los Angeles and the surrounding areas, and we will come in and fix the problem.
After all, don't you want to come home and do your laundry without any problems? Or maybe wash something that has just been stained there and then?
To learn more about our service and repair packages for all washer brands, visit our website and check our packages, or you can give us a call on +1 (424) 210-70-20 to get more info about our service and rates. So don't be stressed because of a faulty washer; trust us, we got this!