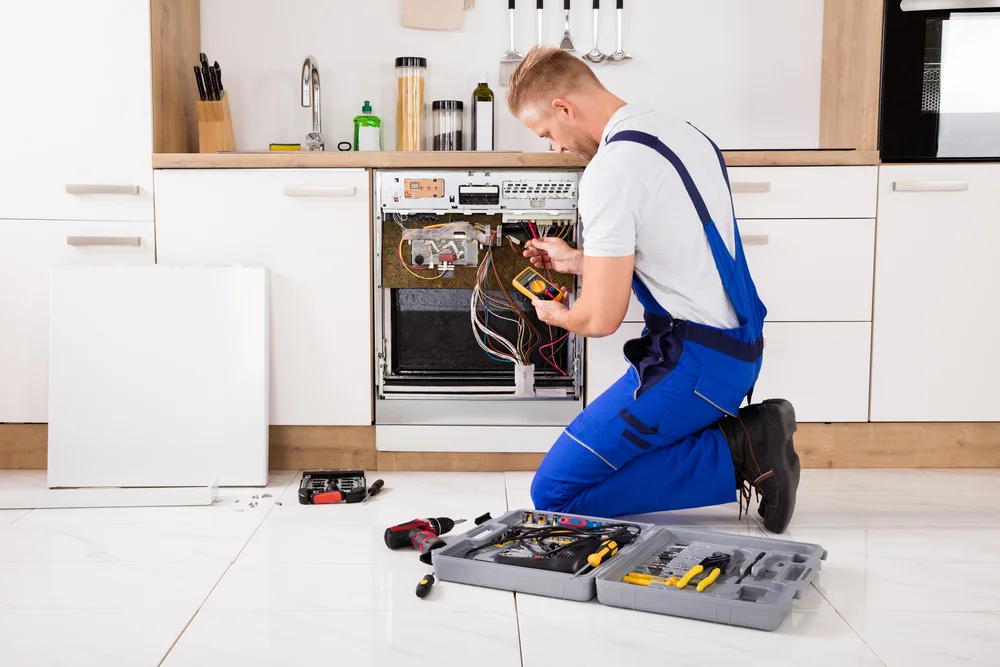 It is not a secret that everyday life has become quite difficult. There is no time, money, and energy – we just try to make ends meet. And the worse thing in this situation is that some things break down. Dishwashers are amazing pieces of technology but they also break down. 
Did you know they were first introduced around 1887 by the women suffragette Josephine Cochrane in Hoboken, New Jersey? She built the machine to help her aging mother who was finding it difficult to do dishes by hand. Since then, dishwashers have been used in kitchens all over the world.
In this blog, we take a look at 6 common problems to look out for when fixing or carrying out Dishwasher repairs.
How does the machine work?
First, your dishwasher is typically fitted with a metal heating element located in its lower basin that helps to heat water to as high as 140 degrees Fahrenheit and there are spray pumps whose function is to spray the hot water over the dishes while simultaneously dispensing the cleaning detergent. After the initial washing, the heating element works again to help in drying the dishes.
Like every home appliance or machine, your dishwasher can break down as a result of poor management or general malfunction, so it will require a dishwasher repair service or the services of a local dishwasher repair person.
6 Common problems to fix in Dishwasher repair
Oftentimes, most dishwasher problems revolve around the basic functions of the dishwasher; heating, rinsing, and drying.
A Noisy Dishwasher
There are various reasons why your dishwasher would make a lot of noise. It could either be a faulty pump, bearing ring & spray arm seal. 
The Pump: This is one of the key suspects in the case of a noisy dishwasher. A pump's function in your dishwasher is to give pressure to the spray arms while also helping with draining the water. That's why it's made up of two compartments which serve the functions of washing and draining. In a situation where you have a noisy dishwasher, some of the areas you need to check out in your pump and below are steps:
Unplugging the dishwasher as you want to protect yourself from the danger of being electrocuted.

Then remove the pump to test and to test your pump, use a digital multimeter

Make sure it's set to RX1 to measure resistance, then place the probes on the terminal of the multimeter to check for continuity.

The multimeter should give you a reading of zero resistance or nearly zero 

Then test the ground connection of the pump as well by placing the probe of the multimeter on the metal housing of your pump and make sure you have no readings at all.

If you get contrary readings from the above, then there is a problem with the pump and you might need to get a replacement pump to stop the noise.
Bearing Ring & Spray Arm Seal
This is another component of your dishwasher that could lead to the generation of unnecessary noise. In this case, the likely problem could be the plastic rings supporting the wash or spray arm getting loose or worn which makes it unable for the spray arm to rotate or function properly. Here are some steps to troubleshoot this problem:
Unplug your dishwasher 

Check the location of the bearing rings (they are usually attached to the spray arms or bearing ring)

Check to see if there are any cracks, wear, or looseness.

If you notice any of the above, you might need to get a replacement
Asides from the above, overloading your dishwasher with a large number of dishes could also cause your dishwasher to make a lot of noise because the spray arm needs clearance to rotate and these large dishes could get in the way.
Also, if after trying all of the above in your dishwasher repair and the problem persists, you could get professional assistance by hiring a local dishwasher repair person.
Overflowing Dishwasher
This is another common problem that could affect your dishwasher. Normally, when the water in your dish reaches a certain height, the overfill float attached signals the dishwasher to cut off the water. Overflowing happens when the float or the switch doesn't work and here are some tips on what to do to fix it;
Check the float and make sure it's moving freely

Check the Overfill float switch and make sure you hear a metallic click

If you don't hear this sound, you might have to replace the switch
Leaking Dishwasher
This is another common problem that you would probably experience if you have a dishwasher. A leaking dishwasher might be a result of either a damaged hose, a faulty pump, or a bad door seal.
Also, overloading could cause occasional leaking and that's why it's important to follow best practices on how to load your dishwasher and most importantly the manufacturer's manual.
Unclean dishes despite dishwasher working
This is also a common occurrence that you might witness as a dishwasher owner and this situation is often caused by overloading or the use of the wrong detergent (as there are certain detergents for specific dishwashers)
The above issues are pretty easy to fix but this problem could also be caused by a serious fault like damage to some electronic parts of your dishwasher that could prevent your dishes from getting clean. For dishwashers that have electronic displays, an error code to signify an incomplete cycle will be displayed.
In this case, you might need to contact a dishwasher repair expert or reliable dishwasher repair material to fix the problem.
Non-draining dishwasher
Oftentimes, this is caused by a clog that can be found in your dishwasher drainage system. A dishwasher that doesn't drain completely might cause damaging leaks and even bacteria growth in your dishwasher as well outside it. To solve this problem, most dishwashers are fitted with filters that you need to clean regularly to prevent clogging.
Your dishwasher not draining could also be attributed to some fault in some parts of the dishwasher or the drain pump. In this case, you might be unable to fix it yourself and might require the service of an expert.
It won't turn on
When your dishwasher refuses to work, some may think that the dishwasher might be damaged but this is not often the case. Your dishwasher not turning on might be a result of something affecting the dishwasher's power supply like a blown fuse, a tripped breaker, or even a faulty door latch.
In the case of any of the above, the dishwasher won't power on and you might need to fix the affected part to get it back to good working condition.
Got any of these dishwasher repair problems and can't be bothered with the repair?
At MegaPro, we've got you!
We are a dishwasher repair company located in Los Angeles, CA. We offer same-day service with transparent pricing.
Our repair technicians are highly trained, dedicated, and motivated to deliver you high-quality service in a friendly and on-time manner. We provide same-day dishwasher repair services for different issues and can fix any make and model of dishwashers in no time at all and for our customers' convenience, we provide 24/7 customer support.