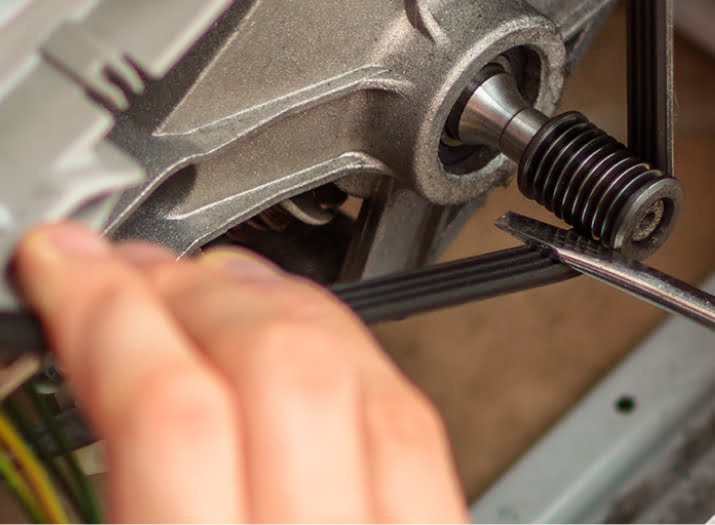 Household appliances make our lives very easy by taking care of tasks we consider tiring. It can be easy to forget how much work these appliances do for us until they break down. You don't want to be dealing with a broken dryer for starters. 
It's no fun, and as life would have it, you will most likely notice your dryer has an issue after you've washed a ton of clothes. Now you're left asking yourself, where do I hang all the wet clothes? You might be living in a studio which makes it even harder for you.
Worry not if you're in Los Angeles and your dryer breaks down as you're washing clothes we got you. Imagine how convenient it would be for you if you contact us and our agents arrive at your place in a matter of minutes? Impressive right?
About Dryer Appliance Repair
Repairing dryer machines can take between 30 minutes to a couple of hours, depending on the issue. Some of the issues that our agents come across most of the time include:
When your dryer doesn't start, you should be concerned. Various reasons can cause this. For instance, it may seem obvious but ensure that your dryer is well connected to a socket. It's common for the plug to loosen when you move your dryer around or when items fall on it.
If the dryer still doesn't start, test the power outlet using a voltage meter or by plugging in a smaller appliance such as a hair clipper. If the outlet is still not supplying power, you need to contact an electrician to repair it.
If the socket is working, then this is where a repairman comes in because your dryer might have an internal issue, such as a blown-out fuse or something else altogether. 
The Dryer Starts Then Shuts Down After Several Minutes
It's not unheard of for a dryer to start then shut down after some minutes. The issue most of the time is the thermostat. You can confirm if the thermostat is working with a voltage meter.
A faulty thermostat causes the dryer's thermal fuse to blow, which then causes your dryer to shut down. Your dryer is most likely preset to shut down when it overheats; if this happens, it's time to call in the professionals. 
The Dryer Is Producing Loud Noises
Modern dryers are fitted with noise and vibration-reducing parts, and if your dryer is vibrating a lot or it's very loud, you might have a problem. On the other hand, if the dryer is shaking a lot, it's probably a positional issue that you can fix by adjusting the position of the dryer.
If your dryer is very noisy, then the issue might be worn-out bearings or other parts. Fixing such components is no mean feat, and you could worsen the problem if you attempt a DIY. This is why you an appliance repair company to come in and help you out. 
The Dryer Didn't Dry Clothes Well
Of course, the purpose of having a dryer in your home is getting your clothes dry. If this doesn't happen, then your dryer has an issue. Some DIY tips for sorting this out include emptying the lint filter and cleaning the humidity sensors with a dryer drum.
This could fix the issue, but if the clothes aren't drying after a second drying cycle, then the dryer's vent system has a problem. Fixing the vents is quite complicated, and if you're not up to the task, call in a professional to do the repairs for you. 
The Dryer Has Burnt Some Garments
A dryer should only produce the amount of heat that you have preset using the controls. It will be messy if the dryer doesn't detect the input because your clothes will be burnt. Not a good sight when your favorite designer jacket has a black patch. 
Your dryer might be malfunctioning because of a congested outlet. This issue causes the dryer to overheat, but you can quickly fix it if you suck out the lint and any other debris using a vacuum cleaner.
Your dryer could also burn your clothes because of faulty rollers. As your dryer ages, so do the internal parts. Faulty rollers have gaps where your clothes might get trapped, and this causes them to burn. Such a problem needs a specialist because the rollers need to be replaced.
It could also be a faulty thermostat. A faulty thermostat will not regulate the heat, and the dryer will get too hot and burn your clothes. Regardless of the issue, if you reach out to a qualified appliance repair company, you should be sorted out in a matter of minutes.
1. Most dryers usually last for 10-15 years. Of course, this is on the condition that you take care of the unit and have it serviced regularly. Overlooking minor issues and not having them fixed may come back to haunt you later.
2. You could get your dryer fixed for free if you're under warranty. If you're not under contract, the average cost for a dryer repair in Los Angeles is $100-$500. If the issue is not too extensive, expect the price to be small as well. 
When repairmen come to your home, they will establish the best course of action for your unit; if they can make an easy repair, that's probably your best bet. But if it will cost you a couple hundred bucks to get your machine up and running, maybe you need a new one.
Our agents will advise you accordingly. If it needs replacing, we can recommend the best home appliance brands to work with. But let's skip the replacement process and focus on dryer repairs for the greater Los Angeles area.
It not a must that our agents come to your house to repair your dryer. It could be a nonissue that we can give you tips on fixing; It's very convenient. Remember, our online support is available 24/7, so what are you waiting for? Call us today. 
Your Local Dryer Machine Repair
1. Which brand of dryers do you repair? We fix dryers from major brands such as Fisher-Paykel, Electrolux, Miele, Amana, LG, Samsung, Hotpoint, Speed Queen, General Electric, Whirlpool, Bosch, Kenmore, etc.
2. Do you provide warranties? Yes, we do. All repairs have a one-month service warranty and a one-year warranty for replacement parts.
3. Do You sell parts? Yes, we do. No need to buy replacement parts on your own.
4. What happens when you don't have parts to repair my appliance? When you call us, we try to find out as much as we can to procure any parts missing in our inventory on time.
5. Where are your services based? For the moment, we offer appliance repair services in Los Angeles. Our services are available in the city and its environs.
6. Can I request services on your website? Yes, you can. You can fill out a service form, and one of our agents will contact you shortly. 
As you can see, if you're in Los Angeles and your dryer happens to break down, we will come in and sort you out quickly. No need to be worried because your dryer is broken or it's producing some funny noises.
To learn more about our repair and service packages for all dryer brands, you can check out our packages page or contact us via +1 (424) 210-70-20 for more info about our service and rates. We will have your faulty dryer up and running in no time. We got you!