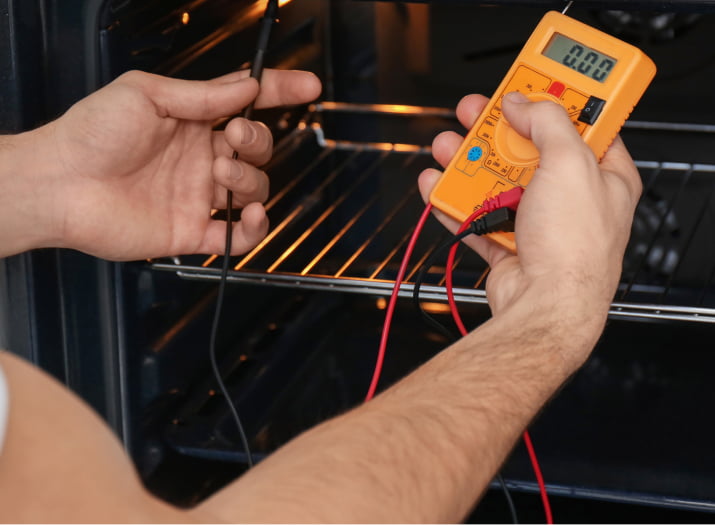 An oven is one of the key appliances in the kitchen. You might not use it daily, but can you get through a week without it? We think not. From baking some cookies with your grandma's recipe to warming leftover pizza after a long and wearing day at work, you need your oven. 
Most of the issues that often go wrong with both gas and electric ovens are relatively easy to fix, so you don't have to start thinking about how you'll get a new unit. You could get some DIY tips from the internet, but it might be time to call the pros if the issue is a bit complicated.
If you're in the greater Los Angeles area, we got you. We will be on-site shortly after you give us a call. No need to worry; gas and electric ovens have very simple working mechanisms making them pretty easy to repair. Their inner components are designed to be disassembled quickly.
About Oven Appliance Repair
Repairing and servicing gas ovens is pretty easy. However, some of the issues that our agents come across with regard to gas ovens include:
There's No Gas Reaching the Oven
When you switch on your gas oven, and you can't hear the hissing gas sound, then you have a problem. Start by checking if your meter is on and also check if you've settled your utility bills. If everything checks out, then your gas oven has a leak.
It's not ideal for you to mess around with appliances that use gas because it can be dangerous. You need to call in an appliance repair service company to come and diagnose the extent of the problem and if it's possible the problem will be fixed. 
The Oven Temperatures Are Wide Off the Mark
Your gas oven might be heating up, but the temperatures are messed up. For instance, if your oven often over or undercooks food, it may be an issue with the controls; you know the component which tells the burner how much heat you want.
If the controls are faulty or not well-calibrated, then you have a problem. This is where you call in the professionals to come in and take a look at your oven. 
If your gas oven door won't close all the way or it's dangling a bit, then your oven is faulty. A faulty oven door means that heat is leaking out of the oven, and this causes your food to be unevenly cooked or have some deep burns in some places.
Most of the time, you can fix the problem because it's the rubber tubing that's not correctly positioned. But if the hinges are the problem, you need to contact an appliance repair company to come in and replace them. 
Repairing and servicing microwave ovens is also pretty easy. Some of the issues that our agents come across with regard to microwave ovens include:
Microwave Oven Shuts Down as Its Cooking
If your microwave oven shuts down as it's cooking, then the switchboard might be the issue. A faulty wiring connection causes the fuse to blow up when it heats, and this cuts off the flow of power into your oven. You need to call a repairman to fix such a problem.
Note that microwave ovens need a good amount of space for aeration. Placing it in a tight space or corner may cause the unit to overheat and then shut down as it cooks. 
Microwave Oven Is Sparking
Is your microwave oven producing some sparks? Well, it's perhaps just another sign that it has a problem. When the inner wall coating of the oven starts to peel, your oven will start to spark because the coating is reacting to high temperatures.
Also, it could be that your diode has burned out or the rack support has been damaged. All these issues mean that you need a maintenance specialist to fix your oven. 
Microwave Oven Is Not Heating
Microwave ovens have heating components such as the magnetron and the diode. They produce the heat that warms your food. If these components are burned out, your food won't heat, and it's time to call an appliance repair company to come in and replace them.
That over 90% of American homes have a microwave oven. Most Americans rank the microwave as the number one kitchen appliance that makes their lives easy. So a microwave is essential, and you should take care of yours and have it regularly serviced.
That you can also get your oven fixed for free if the warranty hasn't expired. This is typically within the first five years of the appliance's life. But if you're not under contract, ovens normally have minor issues that are pretty easy to fix and cheap. 
1. Just fill a service form on our website, and one of our technicians will contact you.
2. We don't have to do a house tour to fix minor oven problems. Instead, we can give you some DIY tips which will end up saving you money.
3. If your oven needs replacement parts, you don't need to buy them; we will bring some from our well-stocked inventory.
4. Our agents will advise you accordingly if we can't fix your oven problem or when it's a bit too expensive to do it. They can suggest some good brands worth checking out. 
1. Which oven brands do you repair? We repair ovens from all major brands such as Miele, Candy, Viking, LG, Samsung, Amana, Hotpoint, Bosch, Liebherr, Speed Queen, Kenmore, General Electric, Whirlpool, etc.
2. Can your technicians contact me before they do a house visit? Yes, they can. Our operators have to check in with you before a house visit to confirm that you are around.
3. Do you provide warranties? Yes, we do. All repairs have a one-month service warranty and a one-year warranty for replacement parts.
4. If you need to order replacement parts, do I have to pay for them beforehand? This depends; if the parts have to be custom-made for your appliance, you need to pre-pay because such parts cannot be returned.
5. Do you buy or sell appliances? No. We only offer in-house repairs and servicing.
6. Where are your services based? At the moment, we offer oven repair services in Los Angeles. Our services are available in the city and its environs. 
Being one of the top appliance repair companies in Los Angeles means that our experience in repairing ovens is outstanding. We have direct contact with some of the leading microwave oven manufacturers, enabling us to access the latest data on these appliances.
Also, we cut intermediaries from parts acquisition and go direct to the manufacturer for the best prices on replacement parts, which we can pass on to you, our client.
You can learn more about our service and repair packages for all oven brands by visiting our website. You can also give us a call on +1 (424) 210-70-20 to get more info about our service and rates. No need to worry about a faulty oven; trust us, we can sort it out!